A gluten free, vegan treat for fit and health conscious individuals, sweetened with natural zero calorie stevia sweetener.
I came across the Castagnaccio – a traditional Italian dessert cake based on chestnut flour – when looking for a baked birthday gift for my super fit Italian friend Martina; she is from Tuscany, so I thought I'd make her a birthday treat that is from her region since she had to celebrate her birthday in England away from family and friends.
The recipe was perfectly suited for what I wanted, it is traditional to Tuscany, has healthy ingredients that are great for any health conscious eater and it's suitable to make in small portions and keeps for a few days as we were going out for food she would have to keep it for later.
The chestnut flour cake originating from the Tuscan region uses mainly chestnuts, which represented an important widely available food source for the poor peasants and farmers. Even the other ingredients are all locally cultivated, a through and through Italian cake.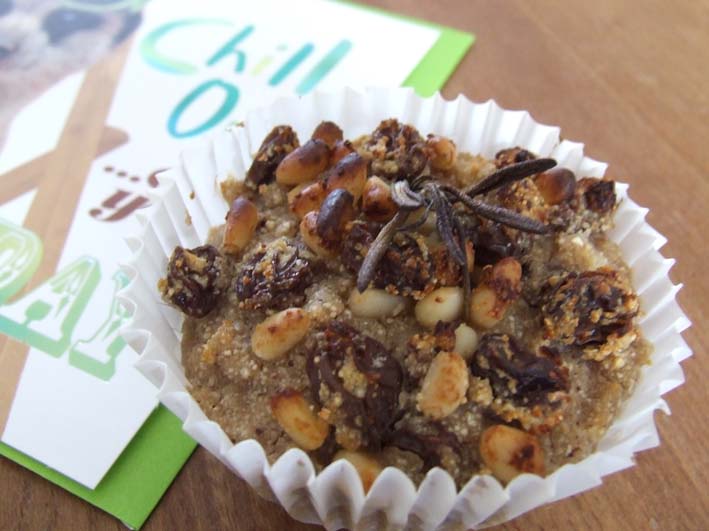 Flavour/ Texture
The flavour of the gluten free castagnaccio cakes is not too sweet as most of the sweetness, even in the original recipe, comes from the chestnut flour itself. It's aromatic with the Rosemary and full of nutty/ marzipan like flavour. It is dense but not heavy with the added texture of pine nuts and raisins.
Although it is eaten as a sweet, not everyone would have considered it one; you can make it as sweet as you like with the help of Stevia-sweet all natural healthy sweetener.
Makes approx. 4 cup cakes
Prep time: 10min
Baking time: 25min at 200°C/400°F
Ingredients
Note: getting the sweetness to the desired level is a matter of trial and error, the best thing is to start with a smaller amount of whatever Stevia you have on hand, it can be ready-use, liquid or tabs (need to be dissolved too), adding more is easier than diluting – you could end up with a huge amount of treat -Don't have any Stevia yet? – you can always use normal sweetener products until you are set up.
Method
Preheat the oven to 220°C (425°F).
Soak the raisins in a bowl of warm water. Drain, dry, and dust them in chestnut flour.
Combine water and flour and mix well. It should be a smooth thick liquid but not too liquid and must not have any lumps.
Add the oil, dissolved Stevia-sweet and salt and continue to mix well.
Add in pine nuts, dusted raisins and some finely chopped rosemary – do keep some nuts and raisins and rosemary tips back for decorating.
If you are using metal cup cake moulds, lightly grease them as the cakes have a tendency to stick, not badly but still. If you are using cup cake papers, note that some of the cake sticks to it on removal, I think silicone moulds give the best result.
Spoon the batter into the cup cake moulds.
Sprinkle with the remaining pine nuts and raisins over the top of the batter. Scatter some fresh rosemary leaves over the mixture.
The cakes are ready for the oven.
Bake them at 200°C (400°F) for approx. 25 minutes.
The castagnaccio is done when the top begins to have cracks in its surface and the sides are coming away from the sides (if using a ovenproof dish).
Tips:
-If you don't soak the raisins before cooking, they draw out moisture as they cook, making whatever you're cooking very dry.
-If you don't flour the raisins, they sink to the bottom of a cake batter as it cooks.
-When adding the water to the flour, don't use all of the water at once: it is best to see how the batter is forming before using it all.
-The chestnut cake mixture should not be higher than about 1 to 2 inches in the ovenproof dish or cake tin. If it is too high, the cake will be too dense.
Credits
Thanks for this recipe to https://blog.stevia-sweet.co.uk/