June 04, 2023
Gluten-Free Stollen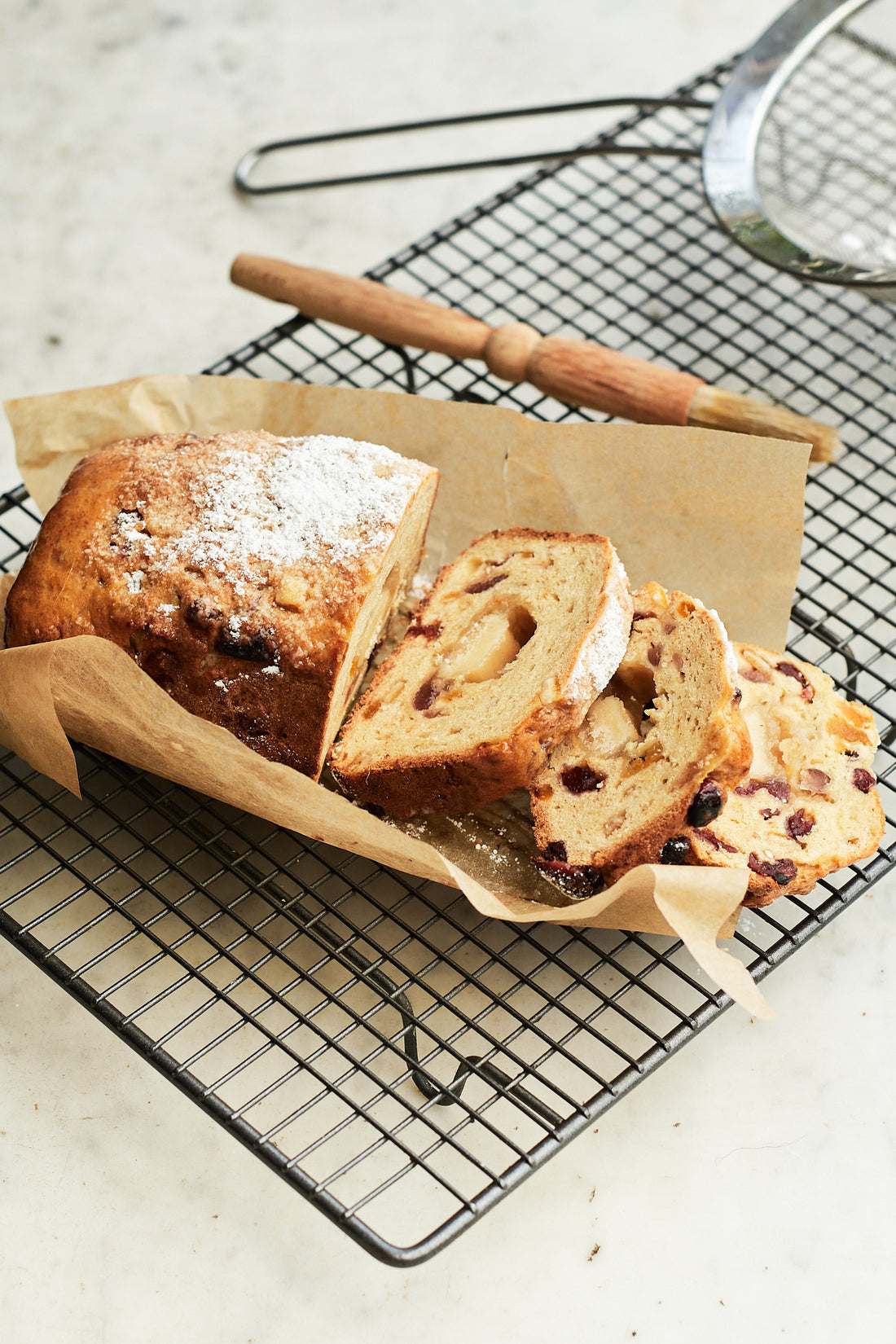 You will need a high sided, traditional 1lb (450g) loaf tin, a piece of baking parchment larger than the top of the tin, and a baking sheet. You also need to steep the fruit in the alcohol one hour before making the stollen.
Ingredients
40g Tapioca starch

40g Ground Almonds

1 tsp Xanthan Gum

¼ tsp Guar Gum

1 Pinch Salt

100g Warmed Milk

30g Melted Butter

50g white marzipan

¼ tsp Vanilla Essence

20g Dried Cranberries

20g Chopped, dried apricots

20g Chopped glace cherries

20g Mixed peel

Zest of ½ an orange

1 tbsp Port or Rum

Extra melted butter and icing sugar for dusting

White rice flour for shaping the dough
Method:
Weigh the dried fruit into a bowl, add the port or rum, the orange zest and the vanilla and leave to steep for at least one hour.

Thoroughly butter the tin and the baking parchment.

Dissolve the dried yeast in the warm milk and stir well.

Put all the dry ingredients into a bowl and dry whisk thoroughly together.

Add the warm milk and yeast, the steeped fruit and the melted butter to the flour mixture and mix with an electric hand whisk. It will be sticky.

Dust your work surface with rice flour and shape the dough into a flat rectangle the same length as the tin, but wider.

Roll the marzipan into a sausage the same length as the tin using the rice flour to prevent sticking.

Place the marzipan lengthways on the dough, wet the surface of the dough around the marzipan, then fold up the edges to make a log with the marzipan in the middle.

Turn the dough so that the fold is underneath, using rice flour to prevent sticking, and transfer it to the parchment on the baking sheet.

Invert the buttered tin over the dough, and prove in a warm place for roughly 3¼ hours.

Pre-heat a fan oven to 180℃ at least 30 minutes before baking.

Transfer the tin and baking sheet to the oven and bake on the middle shelf for 45 minutes.

Transfer to a cooling rack, remove the tin and leave for 30 minutes before brushing the stollen with melted butter and dusting with icing sugar.

Wait until completely cool – a few hours – before slicing.