November 03, 2022
Guest recipe - Peters Yard | Savoury pastries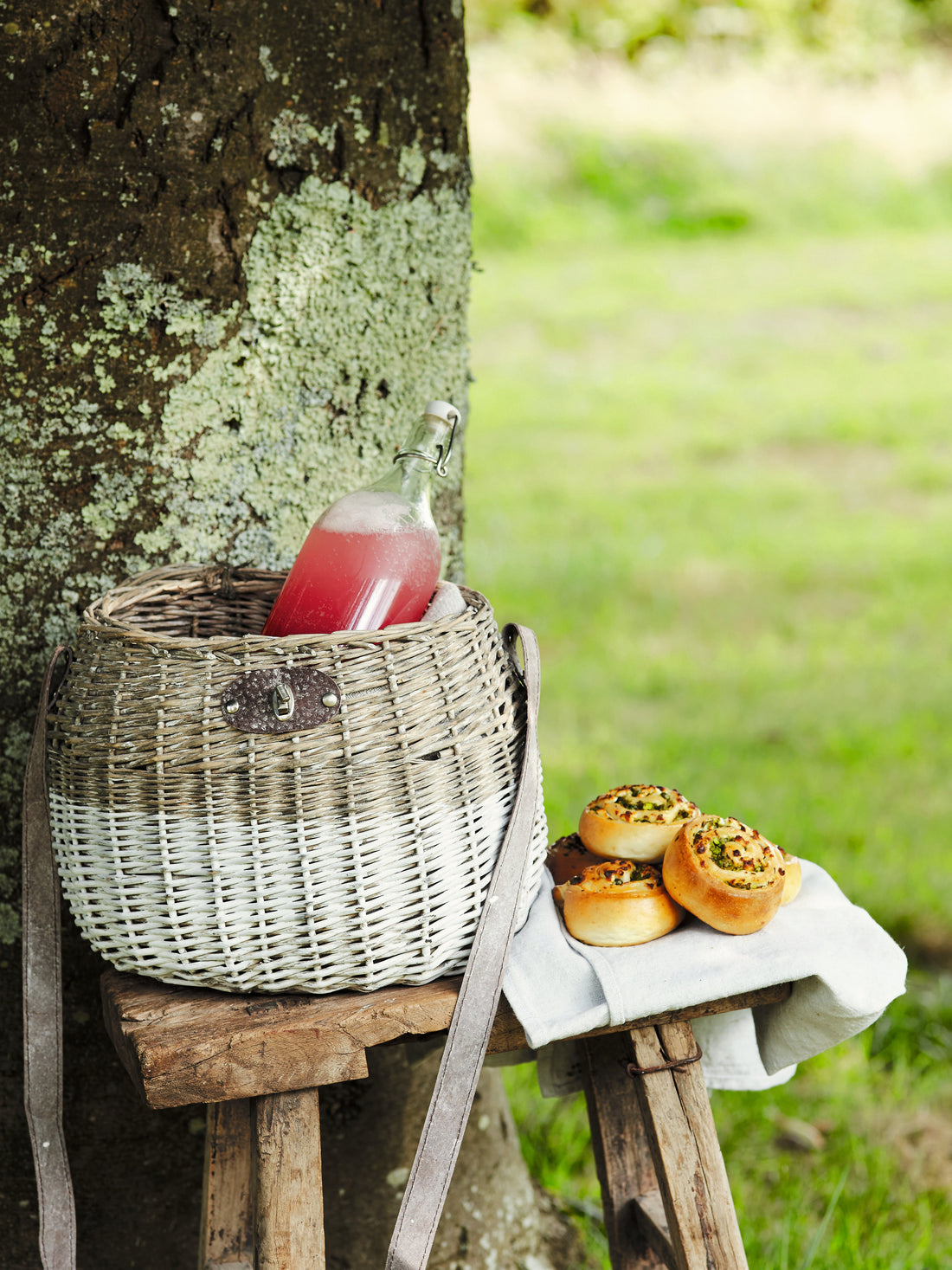 Sweet Danish pastries are widely available outside Scandinavia, but savoury ones are less common. This recipe is taken from ours and Signe Johansen's cookbook Smörgåsbord – they're made with a pea, mint and feta filling which works perfectly with the buttery flavour of the pastry. Wrap these up to take on a picnic, and savour the moment with your favourite summer beverage.
MAKES APPROX. 20 ROLLS
INGREDIENTS
25g (1oz) butter

300ml (1⁄2 pint) whole milk

25g (1oz) fresh yeast

300g (101⁄2oz) strong white bread flour

120g (4oz) plain flour

1⁄2 tsp sea salt

30g (1oz) Parmesan cheese, grated

1 egg, beaten
For the pea, mint and feta filling:
1 tbsp olive oil

2 banana shallots, finely chopped

350g (12oz) frozen peas

Large handful of mint leaves, roughly chopped

60g (21⁄4 oz) feta, crumbled
METHOD
Melt the butter in a small saucepan then add the milk. Heat to blood temperature – about 37°C (98.6°F).
Crumble the yeast into a large bowl. Pour in a little of the buttery milk and stir to dissolve. Pour in the remaining milk.
In another bowl, mix together the flours, salt and Parmesan with a good pinch of ground black pepper. Add to the liquid, stirring to form a wet dough. Tip onto a lightly floured work surface and knead for 10 minutes, until smooth and elastic. Leave to prove in a clean, lightly oiled bowl, covered with a tea towel, for 1 hour, until doubled in size.
Meanwhile, for the filling, heat the oil in a large saucepan and fry the shallots until softened. Add the peas and cook until defrosted then stir through the mint. Blitz briefly in a food processor and set aside.
Transfer the dough to a floured work surface and knock back slightly by kneading it briefly. Divide in half and roll out each piece into a rectangle roughly 25 x 30cm (10 x 12 inches) and 0.5cm (1⁄4 inch) thick. Spread the filling between the two rectangles and sprinkle over the feta. Roll up tightly from one of the long ends. Slice into 9–10 rolls and place, well-spaced, on a baking sheet lined with baking parchment. Leave to prove for 40 minutes, until puffed up.
Preheat the oven to 240°C/220°C fan (450°F), Gas Mark 9. Glaze the rolls with beaten egg. Bake for 18–20 minutes, until golden brown.
VARIATIONS:
BEETROOT AND GOAT'S CHEESE DANISH PASTRIES
Biltz 350g (12oz) cooked beetroot, 4 chopped spring onions, a small handful of parsley and 1 tablespoon crème fraîche in a food processor to form a thick paste. Spread over the dough then sprinkle over 50g (13⁄4oz) goat's cheese and roll up. After glazing the rolls, sprinkle with 20g (3⁄4oz) pine nuts before baking.
ARTICHOKE, CAPERS, DILL AND PARMESAN CHEESE DANISH PASTRIES
Blitz 350g (12oz) marinated artichokes, a large handful of dill, 2 tablespoons olive oil, 2 tablespoons capers and a good squeeze of lemon in a food processor to form a chunky paste. Spread over the dough then sprinkle with 25g (1oz) grated Parmesan.