March 14, 2023
Breadwinners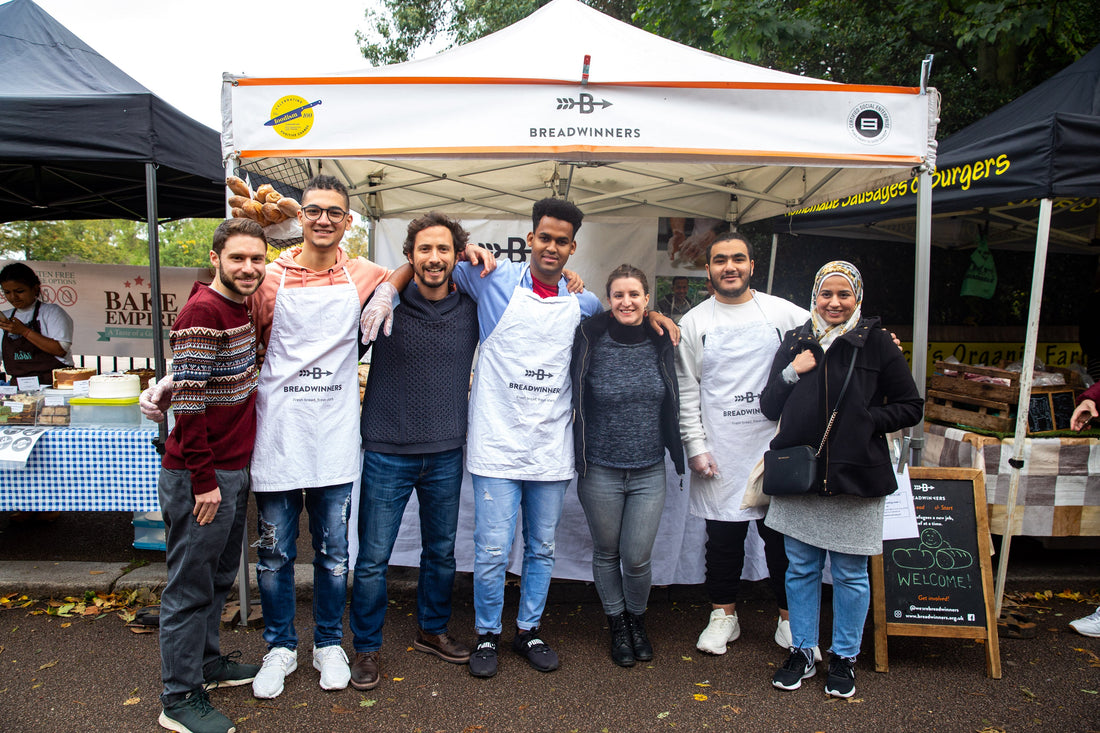 Fresh Bread,
Fresh Start.
Supporting refugees and young people seeking asylum into employment through artisan baked goods
70% of refugees are unemployed in the UK.
Asylum support from the UK government is £40.85 per person a week, almost 50% less than income support entitled to any other UK resident. Until they are granted status - which can take years - people seeking asylum are not allowed to work. This makes it very difficult to gain work experience to help them get a job when they are granted asylum.
Having fled their own country because of war, persecution and violence, despite being highly skilled, they often lack the networks, connections, UK experience and qualifications to begin employment. What they do have is hope, aspirations and a massive will to succeed. They simply need the opportunity.
Breadwinners is an ambitious grassroots charity creating employment opportunities through the sale of artisan bread. With several market stalls in London and Brighton already up and running, Breadwinners provide employment to refugees who are struggling to find work and volunteering work experience to young people seeking asylum which are not yet allowed to work. They also support them with, training, mentoring, networks and entrepreneurship opportunities to make their first steps into their lives in UK.
The sales from each market stall allow them to cover the cost of paying all refugees. Generous funders and donors enable them to provide the equipment, training, mentoring and community building work which goes along side this.
"If I had to describe Breadwinners in one word, I'd say amazing! Yes, because they have given me a lot of experience I can use in the future"
— ASIYO, CURRENT BREADWINNER
"Refugees and young people seeking asylum have so many talents and skills that must be recognised and nurtured. Their resilience, determination and kindness are inspirational. When given the opportunity, they can achieve so much"
— GEORGIA, RISERS PROGRAMME MANAGER
ACHIEVEMENTS
230+ refugees and young people seeking asylum supported through our programmes
96% report a significant increase in wellbeing after taking part in a programme
90% have progressed into further paid work after graduating
Breadwinners are committed to building our long term, sustainable and a diverse income stream. In the last three years, their sales on market stalls have more than doubled year on year.
Earlier this year Breadwinners took home the NatWest SE100 Social Business Award for impact management. The Award recognises enterprises that take considerable measures to manage, demonstrate and communicate the social and environmental impact and value of their business and use it to improve their performance.
John Lister, founder of Shipton Mill, is Chair of the Board of Breadwinners and provides invaluable advice and in-depth knowledge and networks in the bakery sector.
How to support Breadwinners:
Mentoring:
Their young people benefit hugely from having mentors who can help them on their journey. Whether you have mentoring experience or not, if you have lived in London for a while and know the job searching process, you can make a massive difference. Breadwinners are looking for people that can empathise and support our Risers, Breadwinners, and Proofers to progress.
Donation:
From funding new market stalls, to paying travel expenses of Risers, to funding our core costs, every donation counts.
Your donation will go the extra mile as it enables them to keep selling bread by buying equipment for new market stalls. For every £1 in donations they receive, they can pay a young refugee £1.68 for their work.