November 03, 2022
Wholemeal Spelt Soda Bread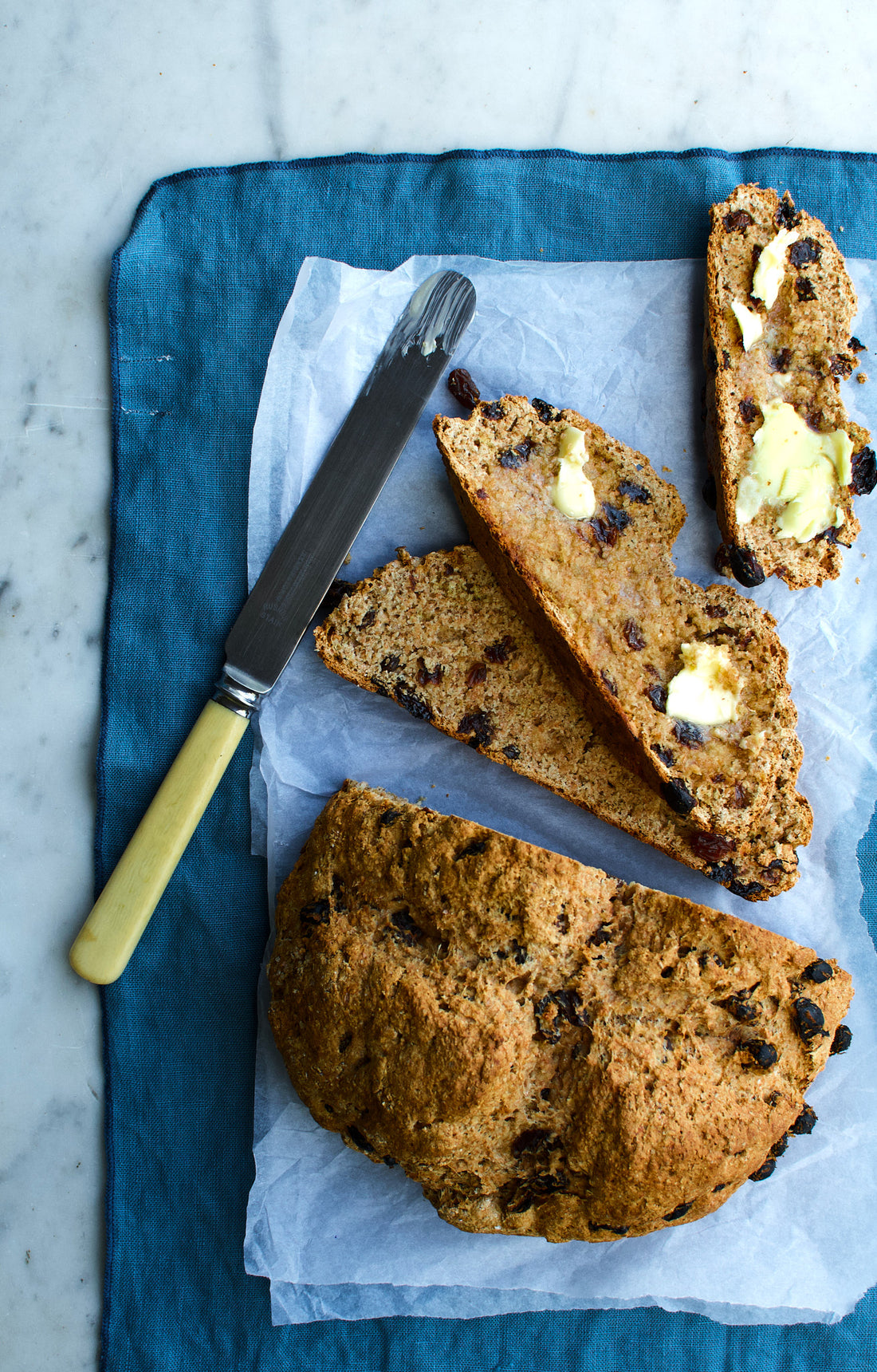 This wholemeal spelt soda bread is not entirely dissimilar to a tea loaf, due to the addition of tea-soaked raisins and just a hint of cinnamon. It's not too sweet apart from the natural sweetness provided by the dried fruit and bran, and makes a lovely afternoon snack with some butter. It also pairs well with slabs of salty mature cheese. If you want to omit the raisins and spice and make it more savoury, it works just as well as a plain version too. A lovely variation is to add some grated cheddar and herbs into the dough, or sun dried tomatoes.
This recipe uses our wholemeal spelt flour, which produces a soda bread full of flavour. It's one of the easiest kinds of spelt breads you can bake, with a soft, dense crumb.
If you can't get hold of buttermilk, you can substitute 50/50 Greek yoghurt and milk for the buttermilk quantity. I love this loaf because it's incredibly easy to adapt to what you have in the house at the time, and requires very little effort to pull together if you're in a rush. Although it's best eaten on the day you bake it, you can also toast it the following morning if you have any leftover.
You could also use our organic einkorn wholemeal flour or our classic organic Irish soda bread flour for this loaf.
Makes one soda bread
INGREDIENTS
150g Raisins
3 Earl Grey teabags
½ tsp Powdered cinnamon
1 tsp Bicarbonate of soda
1 tsp Sea salt
300ml Buttermilk (or 150ml Greek yoghurt, 150ml milk)
METHOD
Three or four hours before you want to bake your bread, weigh your raisins into a heat-proof bowl and cover with boiling water. Add three Earl Grey teabags and leave to soak. You can skip this step and put the raisins straight into the dough without soaking if you prefer / don't have time.
Preheat your oven to 230°C.
Weigh the cinnamon, spelt flour, bicarbonate of soda and sea salt into a large mixing bowl. Make a well in the middle and pour in the buttermilk.
Remove the teabags from the raisins and drain them, and add the raisins to the dough. Combine it with a blunt kitchen knife or your hands (the less you knead / handle the dough the better). When the ingredients are evenly incorporated, shape the dough into a round loaf using your hands.
Place it on a floured baking tray or stone, and score a deep cross into the top, taking the cuts right down the sides. This will make the bread easy to break into quarters for sharing.
Bake it for 30-40 minutes on a low shelf in the oven. To check when it is done, insert a metal skewer – if it comes out clean, the bread is cooked. Leave it to cool on a wire rack.
This bread is best eaten on the day of making. Serve warm with butter.