August 21, 2023
Sourdough Pizza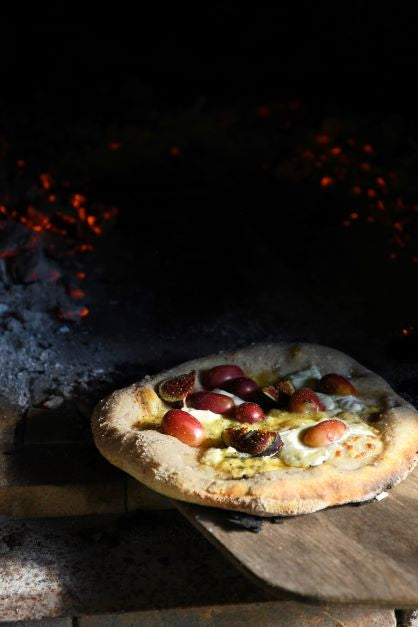 This recipe for sourdough pizza is from our Shipton Mill Head Baker, Chris Holister. 
Chris often uses our type 00 or ciabatta flour, but any strong white bread flour will also work well. Our organic semolina flour is ideal for dusting.
Makes 900g pizza dough, roughly 4 pizzas of 25cm diameter
INGREDIENTS
110g Sourdough starter

350g Water (at 36-40°C)

10g Salt

Toppings of choice
METHOD
The evening before, feed your starter as follows:
Old starter: 20g

Cold water: 45g

Type 00 or ciabatta flour: 45g
Weigh all your ingredients into a large bowl, combine and bring together.
Turn out and knead for 10-12mins until the dough is smooth and the gluten has formed well.
Place back in the bowl, cover and prove for 2 hours in a warm place.
Now fold the dough. To do this, imagine 4 sides then fold the right side to the left, left to right, top to bottom, bottom to top. You should be left with a tighter ball in the middle of the bowl.
Prove for another hour.
Divide the dough into four equal pieces of roughly 250g each and shape into balls.
Place on a lightly floured tray, cover and place in the fridge overnight for 16-24hrs.
Take the dough from the fridge, shape using flour or semolina and top as you please. Bake in the hottest oven you have on a pre heated baking stone, which will make sure it is cooked all the way through. For a hot pizza oven, this will likely take around 3-4 minutes, for a kitchen oven, around 10-12 minutes depending on how hot it will get.