February 20, 2023
Gluten-Free Castagnaccio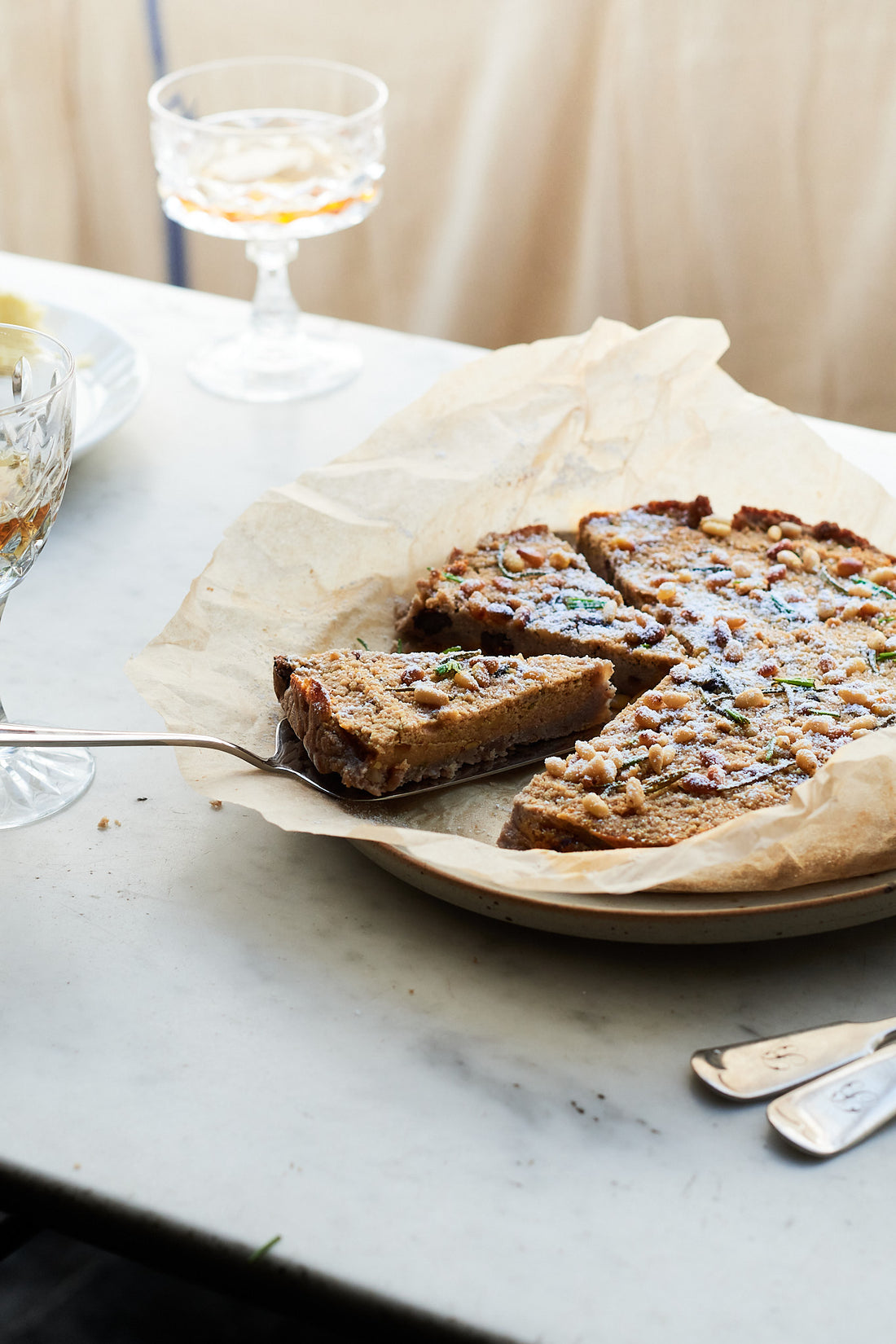 Castagnaccio is a traditional Italian cake known to have been baked for at least 500 years. A cross between sweet and savoury, it used to be called 'wooden bread', or 'bread of the poor', and has lots of regional variations using slightly different ingredients, e.g. fennel seeds, honey and chocolate. We've chosen to add fresh rosemary as they do in Tuscany, and we sometimes use toasted sunflower seeds in place of the more traditional pine kernels. It's very good served with a little dish of ricotta cheese and honey, or paired with sheep's cheese, especially Manchego and Pecorino. Chestnut flour is naturally sweet, and high in protein.
It is said that your Castagnaccio should not be more than 1 cm deep, so you will need a tray measuring approximately 30x20 cm, and some baking parchment.
Ingredients
40g Raisins, soaked for 10 minutes in water

380g Filtered water

2½ tbs

Organic Olive Oil

40g Toasted pine kernels or toasted sunflower seeds

40g Chopped walnuts

2 Pinches sea salt.

1 tbsp of chopped, fresh rosemary, plus a sprinkling of whole rosemary leaves
Method
Soak the raisins in a little water for 10 minutes.
Pre-heat a fan oven to 170℃.
Line a 30x20 cm baking tray or a 24 cm circular springform tin with parchment.
Lightly toast the pine kernels or sunflower seeds in a frying pan over a medium heat.
Sieve the chestnut flour and salt into a basin.
Using a hand or an electric whisk gradually add the water while beating gently.
Add the olive oil and beat again.
Add ⅔ of the toasted pine kernels, or sunflower seeds if using, and the soaked raisins, all the walnuts, and the chopped rosemary.
Spread the mixture in the prepared tray or tin, and decorate with the remaining seeds and raisins, and a few whole rosemary leaves.
Drizzle a little more oil over the top.
Bake for 30-35 minutes until slightly browned and cracks appear on the surface.
Remove from the oven and transfer the Castagnaccio on the parchment to a cooling rack.
Cut and serve with cheese, put in lunchboxes, or just snack on it.